Calendar of Events
Highlights of Past Seasons

Our Instruments
Our Costumes
History & Highlights
St. Nicholas Church

Listen to us

Testimonials

Contact, volunteer, or join!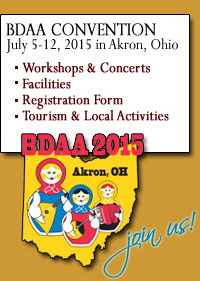 Rooms are still available!
FACILITIES: the Sheraton Suites of Akron/Cuyahoga Falls
Only at the Sheraton Suites of Akron/Cuyahoga Falls do business and pleasure come together so naturally. The all- suite hotel's first class facilities and beautiful view of the historic Cuyahoga River meet your convention needs and cater to your comforts. The Sheraton Suites has thought of everything you need for an enjoyable function through its award-winning amenities.
Dine in distinction on tantalizing cuisine prepared by an executive chef within the riverfront restaurant, projecting out over the Cuyahoga River Gorge.
Unwind in comfort in your own economical, yet luxurious and beautifully designed suite. Each features a distinctive living area, kitchenette with coffee maker, microwave and mini refrigerator, divided bathroom with superior Shine from Sheraton bath amenities, irresistible Sheraton Suites sleeper beds and a spectacular view of either the cityscape or majestic Cuyahoga waters.
Work out in the modern fitness center
Swim in the pool
Relax in the sauna
Take a stroll along the river boardwalk. The Cuyahoga Falls River Square, just a short stroll up the boardwalk, is a trendy location for local shops, cafés, and restaurants. 

RESERVATIONS:
You may make your reservations by calling the Sheraton Reservation Hotline 1-800-325-3535, and asking for the "BALALAIKA RATE" or by logging on to http://sheratonakron.com/ BDAA with the password 'BDAA 2015'.

ACCESS:
The Sheraton is conveniently located directly off the Broad Blvd. Exit of Route 8. Route 8 is accessed directly from several major highways, including I-77, I-76, I-80 (Ohio Turnpike), and I-271. Both the Akron/Canton and Cleveland airports are each less than one hour's drive from the Sheraton, and shuttle service is available. One exit south of the Sheraton on Route 8 is a bustling array of famous-name eateries and shopping centers.