Calendar of Events
Highlights of Past Seasons

Our Instruments
Our Costumes
History & Highlights
St. Nicholas Church

Listen to us

Testimonials

Contact, volunteer, or join!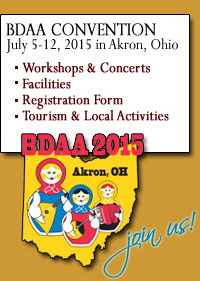 TOURISM & LOCAL ACTIVITIES:
There is MUCH to do for enjoyment in the greater Northeastern Ohio area. Along with being the birthplace of the world's rubber industry, Akron is still the world headquarters for the largest of the companies today, Goodyear, and its recognizable fleet of blimps. You will find many attractions in the surrounding area to occupy your time on the Wednesday "free-day," or you may want to come a day early or stay a day longer to experience the area. (We have negotiated this pricing option with the Sheraton if you desire an extension to your stay.)

Some sight-seeing ideas include:

IN AKRON:
Akron Art Museum
American Toy Marble Museum (Lock 3 Park)
John Brown House/Perkins Stone Museum
Akron Police Museum
Bethlehem Cave and Nativity Museum
Stan Hywet Hall & Gardens
Don Drumm Studios & Gallery
Akron Zoo
Canal Stadium & the Akron Rubber Ducks
Hower House
Viking Vineyards
Cuyahoga Valley National Park & Scenic Railroa
Hale Farm & Village
IN CANTON:
Canton Museum of Art
MAPS Air Museum
Pro Football Hall of Fame
National First Ladies Library
Canton Classic Car Museum
IN CUYAHOGA FALLS:
Cuyahoga Falls Historical Society Museum
Mary Campbell Cave (part of Metroparks in Gorge Park)
Clifford Auto Museum
Sarah's Vineyard
The Winery at Wolf Creek
IN THE CLEVELAND AREA:
Horseshoe Casino (downtown Cleveland)
Northfield Park Live and Simulcast Racing and Hard Rock Rocksino
Cleveland Museum of Natural History
Cleveland Museum of Art
Rock and Roll Hall of Fame
Progressive Field & the Cleveland Indians
Geauga Lake Wildwater Kingdom
Cedar Point (amusement park)
Lake Erie Islands
Wildwater Kingdom
Amish Country and Swiss Village (Tuscarawas County)
… and the list goes on! Come see for yourself why the 2015 BDAA Convention is being held in an area known as "The Heart of it All!"

Don't miss the fun...register now!